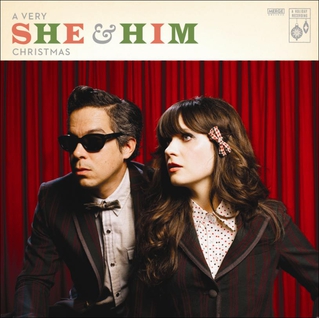 A
s an avid She & him fan And Christmas lover, I was ecstatic to hear about She & him's new Christmas Album.
I decided I had to have it, and so now I do.
Yes, I'm the kind of girl who listens to Christmas music all year long, and usually has her room decked out with Christmas lights by Halloween. Christmas is my favorite time of the year no doubt. I love everything about it!
To me, the perfect Holiday song is one that takes on the essence of The holidays and can make it feel like Christmas any time of the year it's listened to.
All the songs on this album can pretty much qualify as my "perfect holiday song".
I could imagine listening to them mid-summer by the side of the pool, as well as while baking cookies for Santa.
Zooey Deschanel's voice is so beautiful and pure. It has a fabulous 60's quality to it, and that's lovely to hear when the only popular music is Ke$ha and Lady gaga (No offence to fans of theirs. Just an example :)
In my opinion it's never to soon to get into the Holiday spirit, and I would highly recommend this album to anyone who would like to do just that!
Click
here
to buy A very she & him Christmas from the official site,
here
for Amazon, and
here
for Itunes.
XOXO